I am excited to share this short excerpt from my first ever printed article. To read it in its entirety, pick up a copy of the Monday, June 9, 2014, edition of the Cincinnati Enquirer, my hometown newspaper. Or you can read it online by clicking here or the link at the end of the excerpt.
Summer: Everyone's favorite season is finally upon us.
It's a time when many look forward to taking a break from their normal lives. Reds baseball, time away from work, a chance to travel, warmer weather, summer vacation from school, barbecues, pool parties … everyone has their own reason.
But for a sizable contingent of the world's population – with estimates reaching in excess of 1 billion people – this summer will be planned around one event in particular.
The 2014 World Cup in Brazil.
Stretching June 12-July 13, soccer's world championship is arguably the planet's most popular sporting event. And after long being a fringe event in our neck of the woods, the World Cup's popularity is finally starting to catch on in the United States
You might call me an "early adopter": my obsession with the World Cup stretches back to my earliest days. I was born in the middle of the tournament in Spain in 1982. Attending the 1994 World Cup finals here in the U.S. was probably the most seminal moment of my childhood. My loving wife even allowed me to plan our wedding around the last World Cup, ensuring neither I nor any of my guests would miss the action.
So why is the World Cup such a big deal to me and a billion others? Like summer, everyone has their own reasons.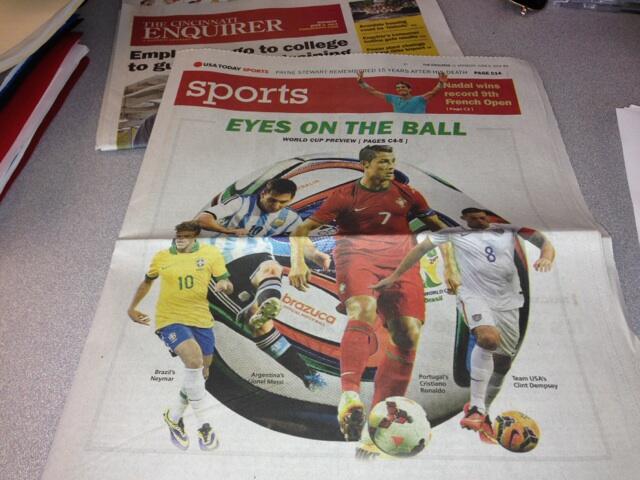 Many are in it for the spectacle. For some, it's the coming together of people from all four corners of the globe. And for others still, it's a way of life that's been ingrained in their country's culture for decades.
If you haven't jumped on the bandwagon yet, no hard feelings. But if you're letting the old preconceived notions of the game keep you from watching this summer – it's boring, it's full of cheaters, and the U.S. isn't any good – you're doing yourself a disservice. Though soccer isn't without faults, its greatest spectacle is packed full of enough drama and action to convince even the most hardened critics. So long as you give it a chance.
Still need convincing to give the World Cup some of your attention this summer?
Continue reading "Why the World Cup is such a big deal" on Cincinnati.com →