Undersell and over deliver.
That may be a classic sales cliché, but it's an expression that's still worth following. By not setting the bar too high, a business gives itself the opportunity to exceed customer expectations, earn their trust and hopefully gain a long-time commitment from them. Promise too much and miss the mark, and you can pretty much kiss those clients goodbye as soon as they're out your door.
Yet despite this strategy being a no brainer business practice, it's appears to be a lesson the folks at New York City FC and MLS never learned. Case in point: the Frank Lampard Fiasco.
By now, it's pretty unlikely that you aren't up to speed with what's going on with the long-time Chelsea legend turned Manchester City mercenary and his "commitment" to Major League Soccer's newest marquee franchise. But just in case you don't, allow me to recap:
July 24, 2014: After failing to secure a new deal with Chelsea, it is announced with great fanfare at an event in Brooklyn that Lampard "had agreed to a two-year Designated Player contract" with new MLS side New York City FC. He commits to joining NYCFC for the 2015 preseason.
August 3, 2014: NYCFC's parent club, Manchester City, announce that Lampard would be joining them "on loan" through the end of December.
November 29, 2014: After a surprising start and several key contributions — including a game winning goal against his former club Chelsea — speculation that City intended to keep Lampard for longer than the original 6-month loan comes to a head, as manager Manuel Pellegrini admits he would like to keep him in Manchester.
December 31, 2014: It's announced that Lampard would "extend his contract" with Manchester City through the remainder of the Premier League season. The keen will note that means would miss the first three months of the MLS season.
January 1, 2015: Manuel Pelligrini casts further doubt on Frank's future in MLS by saying "I hope that he will be [in New York] next year but I think that in this moment the best decision for him, for the club, for New York is to stay here with us…. In May maybe you can start thinking about what will happen in the future."
January 4, 2015: In an exclusive with SI's Grant Wahl, MLS Commissioner Don Garber revealed Lampard had never actually signed a contract with MLS, but had instead signed a two-year deal with City Football Group — the umbrella corporation that owns NYCFC, Manchester City and Australia's Melbourne City. This agreement had him under contract with Manchester through 2014, and with New York for all of 2015 and 2016.
The TL;DR for the above: Lampard has not yet been under contract with New York City, his time at Manchester City has not been on loan from New York, and MLS and NYCFC have colluded with Manchester City to mislead the public on the matter.
If you're a fan of MLS — never mind of NYCFC — and that doesn't make your blood boil, it really should. There are more fingers that need to be pointed at people to blame in this situation than I have to point, and I need your fingers to cover the shortage.
I'm furious with Frank Lampard for disrespecting the fans of the infant club, Major League Soccer and American soccer in general. To this point I've always found Frank to be a reasonable guy; he'd never really gotten himself into any real trouble. And I totally get him wanting to continue on playing at the highest level possible. But this recent course of deceptive actions is a slap in the face to those of us who had bought into the idea of him being an MLS player. We've all had buyers remorse at one point or another, but unlike the reset of us here in reality land, Lampard now gets to break his commitments and do as he pleases.
Predictably, Manchester City are also in my crosshairs for spite. They've quickly justified all of our fears about what could happen if MLS (again — think Chivas USA) allowed an outside club own a team in the league. While I fully expected them to use this relationship to skirt Europe's Financial Fair Play regulations, I just didn't expect them to do it so quickly. They too have disrespected American soccer by abusing the power they've been granted, treating NYCFC as nothing more than the pawns in their giant game of global football chess.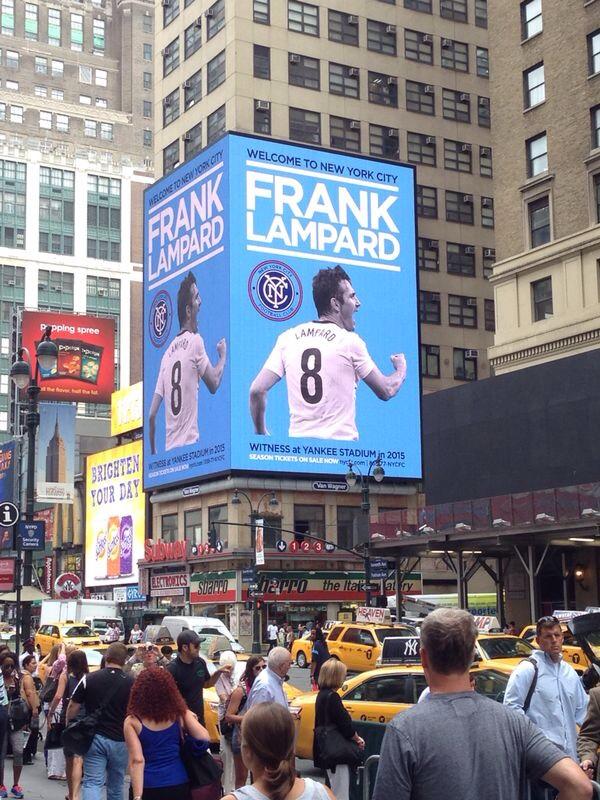 Little brother New York City FC is also deserving of some rage, too. They acted like Lampard was their player even when he wasn't, and then went on and sold a 12,000+ season tickets on the back of that lie. Jason Kreis and Claudio Reyna complicitly told us all about how Lampard was their player and they would dictate where he would be when the season commenced… though I could see them being left in the dark too.
But more than any of the others, I'm seething with Major League Soccer. They put themselves in a situation where a third-party could dictate how one of "their" players could be utilized. But Don Garber was more than happy to smile big while he taking $100 million check in exchange for giving Manchester City's owners free rein to do what they want with a club that could very well be the one that defines MLS 3.0. And on top of that, he and the league conspired to keep the real nature of their agreement with Manchester City a secret.
At a time when many had already been calling for MLS to increase transparency, the entire Lampard fiasco amplifies the matter ten fold. How can we be expected to trust a league to conduct fair and equitable blind draws and already foggy player allocation procedures when marquee player contracts can't even be conducted with 100% honesty?
I mean, it took nearly three days before anyone from New York City FC or Major League Soccer eventually got around to addressing the situation publicly. Three whole days. That's an eternity in today's social media world.
Yet instead of nipping it in the bud and trying to calm the masses, they both let it fester and destabilize a fan base that's barely even had time to put down roots. It's hardly surprising to see NYCFC's officially sanctioned supporters group, the Third Rail, have come out and publicly denounced the decision and publicly support any of their members' requests for season ticket refunds.
This league — hell this entire country — has spent the better part of two decades trying to legitimize the sport here. We want the rest of the world to take soccer in the United States seriously. The end game, by MLS' own admission, has been for the league to escape  "Mickey Mouse" status and become a global player in the game in the next seven years.
But allowing something like this to go down, in the manner in which it has, shows we're so far away from that it's barely worth keeping track of our progress.
By overselling and under delivering, they've they've killed the momentum before they club even kicked their first ball. Lampard, City Football Group and even MLS all ignored a simple rule, each working together to make the league look like one big ass joke all over again.
And worse than that? They were all willing to make a buck off of you, I and the rest of American soccer in the process.