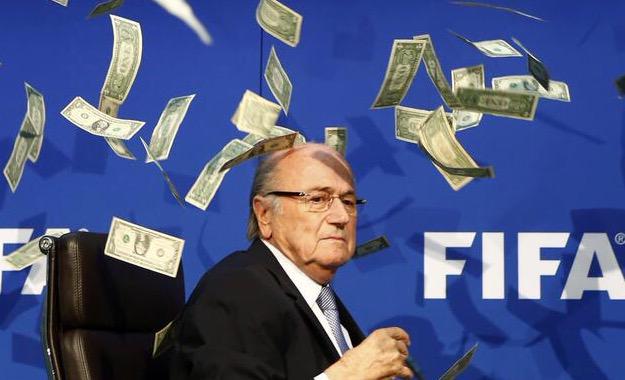 Even though we're literally just over 10 hours into the week, the soccer gods have been kind and already gifted us the latest "Pic of the Week". I don't need the rest of the week to make that call, as there is no possible way a picture will be produced that bests the one above. To be honest, it's quite possible the entirety of the remainder of 2015 will be unable to best this one.
So what exactly is it that we're seeing?
Though this might surprise you, it's not actually a candid photo of FIFA president Sepp Blatter's morning shower routine. Instead, it's a picture of the "outgoing" FIFA supremo being showered in fake money thrown at him by British comedian Lee Nelson during a press conference this morning. Want to see a video of it? Sure you do. Nelson interrupted the presser after sneaking into the building, announcing himself as a member of North Korean World Cup delegation before making it rain on King Sepp. But as for Blatter's look of disappointment? That can easily be explained by the fact that they were just $1 bills instead of $100's.
Once things were cleaned up and Sepp returned to the stage, he did announce that he would not be standing for re-election in the February 27th Extraordinary Elective Congress. However, no word on whether he kept the bills or not — though I think it's safe to assume he did.