Tonight marks the Major League Soccer's version of the mid-summer classic, the 2015 MLS All Star Game. Some think it's pointless, others find it a good bit of fun to highlight the league's growing profile and star power. And to be honest, neither camp is wrong. But it's an annual tradition many of us have grown to accept and — gasp! — possibly even enjoy.
Unlike most other American professional leagues, the East versus West format was officially ditched back in 2005 when the league started inviting European club sides to take on the league's best. Since then we've seen some of the biggest names in world football line up against a selection of MLS' biggest stars: Bayern Munich, Celtic, Chelsea (twice), Everton, Fulham, Manchester United (twice), Roma and West Ham United.
And this year, it's the Premier League's Tottenham Hotspur FC that were invited to face the best of MLS at Colorado Rapids' Dick's Sporting Goods Park.
For those of you who have followed me for any length of time, you're probably well aware of my affinity for Spurs. For those who weren't, I started following the club in 1994 after they signed current US coach Jurgen Klinsmann. But like most American fans of European teams, outside of a trip to White Hart Lane for the opening day of the 2004/2005 season, opportunities for me to watch Spurs live and in person have been few and far between.
So when it was announced my beloved Spurs would be this year's opponents, my attendance was already almost a guarantee. Then a friend in Denver offered for me to crash at his place and borrow his car. Then my some of the good folks over at Adidas were kind enough to spot me some tickets.
That was enough to seal it.
So my wife, daughter and I hoped a plane on Sunday from Cincinnati to Denver, and the three of us have spent the week enjoying Denver while attending various All Star Game and Tottenham festivities around town.
But then something dawned on me while I was out last night attending some Spurs events: not everyone knows Spurs like me.
While many American soccer fans were probably familiar with the stars on display for recent All Star opponents, Spurs aren't exactly a club full of household names — at least here in the US, that is. And since many don't really know Spurs, who better to introduce the team than a guy who has followed them for 21 years?
So to help get you up to speed for tonight's game, I've taken the time to break down Tottenham as a community, club and team.
THFC || The Club
Tottenham Hotspur Football Club are an English football side based in London in the United Kingdom. They're commonly known as just "Tottenham" or the shortened "Spurs", but be careful with that: you'll receive plenty of scoffs if you incorrectly refer to them as "the Spurs" or "Tottenham Hotspurs".
Spurs are currently one of the five London-based clubs in the English Premier League, alongside Arsenal, Chelsea, Crystal Palace and West Ham. Specifically, Spurs call the Northern London suburb of Tottenham home — though as much as it pains me to say it, they're not the most popular club on that side of town. Neighbors Arsenal, who play just five miles down the road, are bitter rivals and are easily one of the most popular sides both here in the US and abroad.
Part of the Spurs smaller following comes down to success: they've only twice won a first division title, the last of which came in 1961. Comparing Tottenham's trophy cabinet to that of the more popular sides — like behemoths Chelsea, Liverpool, Manchester United and even Arsenal — and it's easy to see why they don't garner the bandwagon following the others reputations have earned them.
But that doesn't mean they're not competitive.
In fact, Spurs' competitive nature is part of what makes them such an appealing side. Tottenham and their supporters have long demanded that their side be attacking focused, with a preference of attacking with style. Though it's not always gone as planned — actually most of the time it doesn't go as planned — they remain one of just seven English sides to have never been relegated from the modern Premier League. In more recent times, they've also regularly competed for the highly coveted top four spots.  And that's been achieved despite not having the deep pockets, a loose-spending wealthy benefactor or a huge stadium to pull in higher match day revenues.
Much of their success during this spell can be owed to the way the club has been run by Chairman Daniel Levy. An adept negotiator with a preference for fiscal responsibility, he's somehow kept Spurs relevant in the table despite continuously selling off the club's biggest stars and building a new stadium to replace the loved, but cramped, White Hart Lane.
THFC || The Squad
Looking at Tottenham's squad, you're not going to find a lot of "star power" in the same was as you would with recent All Star Game opponents. And that's mostly because they've all been sold off to the highest bidders. Michael Carrick and Dimitar Berbatov departed for Manchester United. Rafael van der Vaart went to Hamburg. And some dude named Gareth Bale went to Real Madrid for like a gazillion dollars.
I'll admit it: a sizable chunk of the money they've earned from those high-profile sales has been squandered. But Spurs have invested some of it wisely, and along with a handful youth players finally coming good, they remain a competitive side in the league and in cup competitions.
So who is the biggest star in the Tottenham ranks? It depends on who you ask.
Many will point to last season's breakout star, English striker, Harry Kane. Just 22 and fresh off of bouncing around after a bevy of mostly "meh" loan spells for the previous few seasons, Kane bagged 31 goals in all competitions to the surprise of just about everyone. Rumors of a big money move to Manchester United persisted all summer, but the youth academy product signed a new deal and has publicly stated his commitment to the club.
But what remains to be seen is whether last year was just a flash in the pan for young Harry, or a sign of his true qualities. Hopefully we'll find out tonight.
Now if you were asking me who the biggest star is for Spurs at the moment, I'd point to someone else: goalkeeper Hugo Lloris. The French national team number one and captain is hands down one of the top five goalkeepers on the planet, and remains the subject of intense interest from Manchester United as well. But don't expect to see Hugo in net tonight: he's nursing a broken wrist. Though he is in town, which is good from a Spurs' perspective in the immediate future.
So who else should you keep an eye on? Based on yesterday's open training session, I expect Spurs will line up as follows:
GK Michel Vorm
Kyle Walker     Toby Alderweireld     Jan Vertonghen     Ben Davies
Eric Dier     Nabil Bentaleb
Moussa Dembélé     Christian Eriksen     Nacer Chadli
Harry Kane
Now if you know your international football, you'll notice there are no less than five Belgians in that starting XI. Of the bunch, new signing Toby Alderweireld has arrived from Atletico Madrid to help strengthen the defense with Jan Vertonghen. Dembélé is quite the skilled dribbler for a man of his size, and Chadli has a rocket of a shot.
Others who are worthy of watching? The Dane in the middle, Eriksen, is capable of puling some serious strings and threading some tiny needles. Algerian international Nabil Bentaleb is a Spurs academy product who I think is capable of becoming a major star in a few years' time. And Kyle Walker's speed from right back is something worth watching, too.
As for the American in the ranks, don't expect to see much out of DeAndre Yedlin. Most expect he's destined for a loan spell to a Championship side to gain further experience, something I worried about when he was signed in the first place.
THFC || The Manager
Despite the regular finishes in the upper reaches of the table, and the stability offered by Chairman Daniel Levy, the managerial position at Tottenham has been a bit of a revolving door in recent years.
Since Spurs' audacious run in the Champions League in 2010/2011, Spurs have had four managers. The manager that lead them on that run, Harry Redknapp, remains a fan favorite but was also generally derided for his lack of tactical acumen and reliance on older players. Andre Villas-Boas was brought in to revolutionize things, but was eventually dismissed for the maniacal Tim Sherwood. Sherwood didn't last six months in the job.
Now at the helm? Argentine Mauricio Pochettino, who is now in his second season in charge of Spurs' latest reboot. A disciple of the Marcelo Bielsa school of coaching, Pochettino earned the Spurs' hot seat after impressing with an expansive passing and free-flowing attack at Southampton. But probably the key signature of Pochettino's tactics is his high-pressure defense, which he hopes will create more opportunities for players like Kane to convert.
Do I think he's the man to get Spurs over the hump? He could be. Poch seems to be well liked by the players despite having a no-nonsense approach to management — it's rare to ever see him crack a smile. But whether he can attract and get the most out of the type of star talent Spurs need to regularly compete? I'm not yet sure.
THFC || The Supporters
As mentioned above, the support of Tottenham Hotspur here in the US lags far behind that of the "bigger" clubs in England. But we're also a rapidly growing demographic.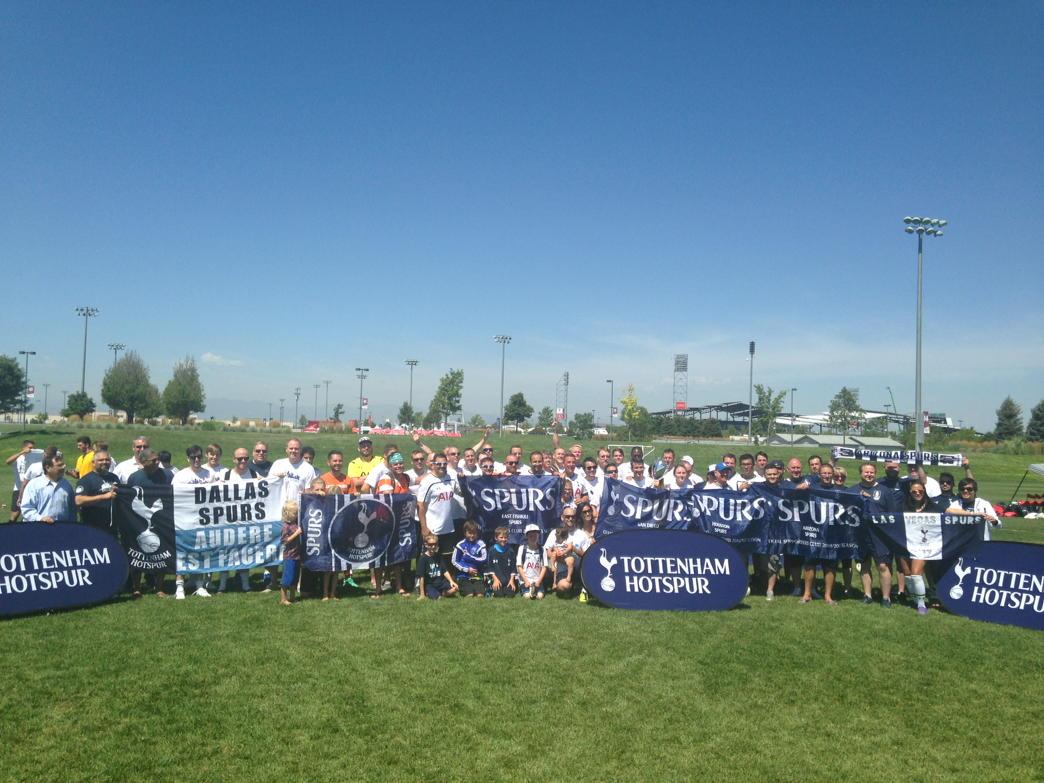 Twenty years ago, I never ran into anyone else here that liked my Spurs. But today that's a very different story. I'd imagine that's largely due to a recent influx of American talent, starting with a trickle on Brad Friedel's arrival, and turning into a decent-sized stream when Clint Dempsey joined a few seasons back. DeAndre Yedlin's recent signing also probably earned some new followers as well, especially in the Pacific Northwest.
We're also a hipster pick — alongside Everton — since Tottenham aren't quite a dominant and/or popular team, but they usually show well, too.
As for the supporters back in England, they're generally well-regarded and looked upon as a bit of a "lovable loser" bunch. Other clubs generally don't hate us — Arsenal and West Ham, excluded — and most other supporters seem to think they're a bit deluded for believing in a team that never quite seems capable of making it over the hump.
THFC || In Summary
I love Spurs, and probably more than any other team I follow. They are an exciting team — cathartic even. And some of my favorite ever players have dawned their lily white and blue kits — Jurgen Klinsmann, Ledley King and Gareth Bale to name a few. And if I had to do it all over again, I would have never let another club steal my heart.
Spurs are an ambitious, well-run club. The recent deal to make the Tottenham's new stadium the home of the NFL in London for the next decade is proof of that ambition off the pitch. And the regularly impressive annual reports easily illustrate Levy's savvy at guiding the club's finances. With a new stadium on the way, a growing global fanbase, and television deal money continuing to stream in at rates unfathomable, Tottenham have set themselves up nicely for the future.
Yet what we really need to see out of them is to finally put things together on the pitch. And consistently, too. Just missing out on the Champions League year after year can grow tiring. We're just as capable of smashing opponents as we are at getting smashed. That can be fun and horrifying at the same time.
However, I believe Spurs legend Bill Nicholson best surmised what Spurs are all about, both in what they are as a club and what it's like to support them, too: "It is better to fail aiming high than to succeed aiming low. And we of Spurs have set our sights very high, so high in fact that even failure will have in it an echo of glory."
For that reason alone, that will make for a great MLS All Star opponent.
And if that's enough to get me out for my first All Star Game since 2005, then that should surely be enough for you to at least tune in tonight from home, too.