From its very beginning, Major League Soccer's proposed return to Miami has seemed a bit off. It's an exciting market, but one that professional soccer had yet to conquer.
Under the stewardship of global superstar, two-time MLS Cup champion and owner of a discount MLS expansion agreement, David Beckham, the goal of bringing professional soccer back to Southern Florida got under way with a bang. A glitzy press conference featuring Golden Balls himself, smiling and answering questions with fellow investors and MLS commissioner Don Garber.
Pledges to build a spectacular new soccer-specific stadium in the city and on the waterfront were used to hype the handfuls of fans in attendance. Garber spoke of the promise, know how and star power that Beckham and his team of investors possessed. Quickly, a full fledged supporters groups sprung up, club names were debated, kits and crests were floated and stadium renderings filtered out through the media. The hype was real.
Too, the February 2014 announcement that Beckham intended to put his discounted MLS club in Miami came right in the middle of a slew of similar league expansion press conferences. First was New York City FC in March 2013, Orlando in November, Miami was next in February 2014, Atlanta in April and then Los Angeles FC in October.
Of course, the key word in that previous paragraph being "similar".
None of New York, Orlando, Atlanta or LA have had MLS completely fail there. Miami has — though one could argue that it wasn't Miami alone that ushered the Fusion to contraction, as the team actually played in Ft. Lauderdale. And while Los Angeles did see Chivas USA fail before too, the city also features the trump card that is the pride and joy of Major League Soccer in the five time champion Galaxy.
But more importantly, unlike the other four cities in that list, Miami's press conference featured words like "contingent" and "if". In order to get the Beckham his club, he and his team of investors would have to first secure a stadium. In downtown Miami. And since that announcement nearly a one year ago, we've not really heard any good news from Miami, Beckham or MLS.
And it's that stadium issue which has proven the biggest stumbling block thus far.
Beckham's original plan was to put a privately financed, glitzy stadium on the Port of Miami waterfront, but by late June a cruise line and local politics conspired to shoot that down. A second stadium site on a boat slip next to the arena housing the NBA's Heat was also nixed. Since? Some Miami politicians have jostled for favor with Beckham's group to bring MLS to their neighborhoods, while others won't touch it with a ten foot pole. Considering the public's displeasure with the city and county getting hosed by baseball's Marlins when public funds were used to build their new digs, backing Beckham & Co. to build in their borough might be political suicide.
As might be expected, a group of supporters often assures that things aren't so bleak as has been reported in South Florida. They talk of whispers they've heard, announcements they've caught wind of, news that's due to be announced just around the corner in three months soon-ish. It's easy to admire their passion, but they're just as in the dark as the rest of us.
Meanwhile, the radio silence coming from Beckham's camp has been deafening. Wisely, they're playing things closer to their chests after getting burned by earlier premature announcements. But things have gotten so quiet that it's also allowed ample room for doubt to fill the void.
For the most part, the league office and commissioner mimicked Beckham's silence too. Until recently, that is.
In June of last year, Garber admitted that the repeated stadium setbacks had set the Beckham-Miami expansion "back to square one". But by last month, that quote had  quickly digressed to Garber professing "this can't go on forever".
Coupled with Miami's poor track record with supporting their other local teams — professional teams in Miami averaged in the bottom 40% in league attendance over the last five years and that's including the Heat. The Marlins and NHL's panthers in particular have proven to be some of the worst attended professional teams in the "big four" leagues. With MLS having already failed there too, if Beckham doesn't get this exactly right, going back to Miami remains a very risky endeavor indeed.
So with time running out for Beckham and his team of investors to use their discount coupon and updates on quantifiable progress in Miami dwindling, what option do the league and its former star really have left?
Enter New York City — erm Harrison, New Jersey — and the always chaotic Red Bulls.
Despite having finally found some on-field success under the guidance of former player Mike Petke over the last few seasons, the original team in "New York" quickly returned to its chaotic ways this off-season. Thierry Henry retired. The club's relationship with Tim Cahill looks to have run its course, too. A new general manager came in, Ali Curtis, and he promptly fired Petke and replaced him with Jesse Marsch. And the icing on the cake? Their on-again-off-again rumors that Red Bull reportedly wanting to divest themselves from the club.
It's probably a huge stretch, but could Beckham buying out Red Bull be the match made in Major League Soccer heaven?
Hear me out. There are somewhat sturdy legs to this theory, I promise.
David Beckham and his media-sculpted behind isn't just going to blow his money by exercising his ownership option in flyover country, even if the market might make sense. So sorry, St. Louis, San Antonio or Minnesota. Beckham's the type who is only going to choose a location that matches his celebrity. Look at the locations of his previous stops since leaving Manchester: Madrid, Los Angeles, Milan and Paris. Each a Mecca in its own right. Beckham and his wife need that.
As it turns out, there are really only three cities in this country that command that kind of prestige: Los Angeles, Miami and New York City. Becks seemed too loyal to have set up shop across town from former employers LA Galaxy with a second LA franchise, and that opportunity has passed now anyway. At the time, New York City's second spot had also been gobbled up by Manchester City. Not only that, but his contract clause also prevented him from expanding into New York. So that left only Miami that matched his mystique, and all the baggage that came along with it.
With all of Mr. Posh Spice's charm and marketing prowess though, that would be more than enough to overcome such obstacles. Or so Beckham & Co. thought.
So now that the likelihood of Miami getting all of their ducks in a line is dwindling by the week, it could in theory be possible that New York could be back on Beckham's radar. We're past his original deadline to pony up anyway, and it's not like MLS never changes their rules or anything.
Right. It's still a really big stretch.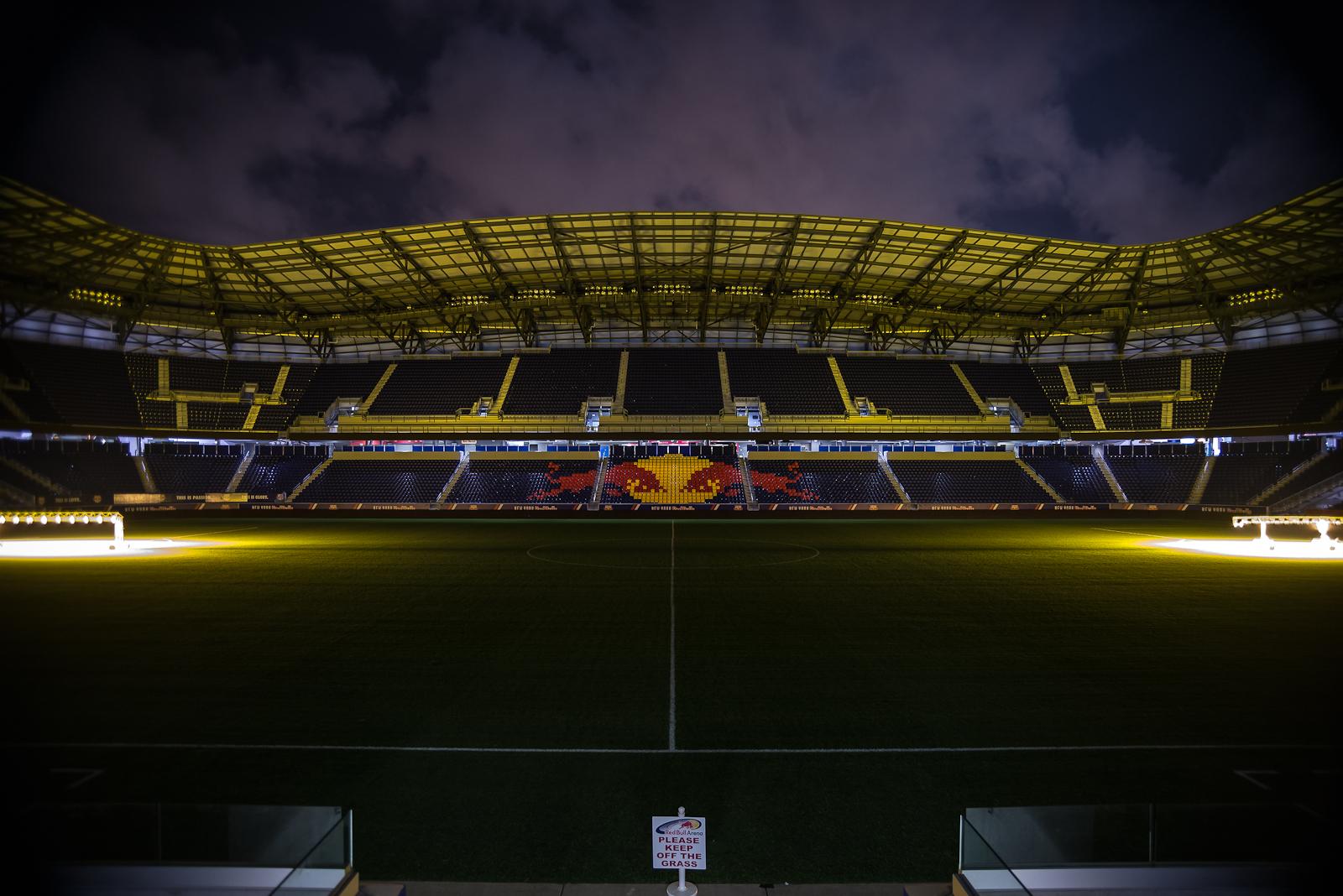 But a few other rumors broke over the last week that could help tie up some loose ends.
Always on the search for additional investors to help strengthen his position, it was reported that Beckham was courting New York native, Brooklyn Nets minority owner and hip-hop mogul Jay-Z into his ownership group. While the rapper is known for globe-trotting and could easily skip down to Miami, I'd wager he'd rather put his money investment closer to home. Jay-Z's participation would also provide Beckham and his team additional credibility in the city. He's well known, respected and offers another public face to help draw in further investors. Throw in giving him a chance to rebuild another team in the area? I think Jigga could be tempted again.
Then came the rumors that the Qatar Investment Authority — the owners of Paris Saint-Germain and sponsors of Barcelona, as well as a regional rival to Manchester/New York/Melbourne City's Abhu Dhabi United backers — were or are potentially interested in purchasing the Red Bulls MLS franchise and stadium.
Yes, that is another domino falling into place. How does that involve Beckham? Recall back to the last of his playing days: who paid him his last paycheck?
Paris Saint-Germain.
Yeah, that's right. He's already in tight with the Qatar Investment Authority. Add those factors in on top of his struggles in Miami, and suddenly buying the Red Bulls looks like a much more feasible option for Beckham.
So what's in for the league? By allowing Beckham to swap things to New York, MLS won't have to risk burning one of their 24 franchises on a market their just not sure about. Everybody wins — well, except for soccer fans interested in MLS or American soccer in South Florida. Then again, there might not be that many of them to begin with.
Obviously, there are loads of pitfalls in this whole theory too.
For starters, there's finances. What's not known is if Beckham's other current investors — Bolivian American Marcelo Claure and fellow British celebrity Simon Fuller — are married to the idea of Miami. If Beckham pulls out of Miami, would Fuller and Claure's money pull out too?
Furthermore, Beckham's clause offered him an expansion team for $25 million. The chances that Red Bull's parent company would be willing to part with the club for that piddly sum are laughable. It was reported that they would listen to offers for both the club and Red Bull Arena around the $400 million range. Which means Beckham would need to drum up another $375, assuming MLS lets him use his clause as a credit in the first place.
Is that really that bad, though? Consider that the stadium he and his group have been rumored to build in Miami is somewhere in the $200-300 million range. Assuming the upper end plus his $25 million buy in, that puts him just $50 million shy of the Red Bulls asking price.
Couldn't a Jay-Z and Qatari backing easily help cover that gap, even without Fuller/Claure, and help Beckham restore the original New York franchise to their rightful place among the MLS elite?
I think it could.
Will it? I don't know. Chances are, probably not with this new chaotic leadership.
But there are definitely enough pieces in the puzzle to make me at least entertain the question. And it's enough to make me wonder if the Beckham's last impact in Major League Soccer will stay rooted at the tip of the Floridian peninsula, or make a move up the Atlantic coast to the Big Apple.