It's a weird feeling knowing they are going away forever, isn't it?
After all, I've known the trio for just shy of nineteen years now. There aren't many who have been in my life that long. If memory serves me correctly, we were first introduced by former Columbus mayor Greg Lashutka way, way back on October 19th, 1995. And though their hardened, steely, cross-armed glares may not appear so to those on the outside, it's been comforting to have them around over the years — confidently and knowingly watching over us.
Of course I'm talking about the three nameless construction workers that adorn the Columbus Crew's outgoing crest, as if that wasn't obvious at this point.
It's true that some are quite happy to see the hard hats go. They've been mocked as cartoonish descendants of 90's era Microsoft clipart. Some have derided the blue-collar ethos they represent as no longer being representative of the city the team calls home. They are said to no longer capture the spirit of the young, modern professional that the club and league so desperately want to fill their seats. And to be fair, those arguments hold quite a bit of water.
But that doesn't mean I can't still lament their impending departure.
This is the only logo my MLS team has ever used; the only face of the organization I've ever known. They're one of only two MLS Originals™ crests that have survived to modern MLS 2.0/3.0 times — the other being the scribbled in crayon logo of the New England Revolution. And as such, I've I have a metric crap-ton of special moments attached to it.
The construction workers have presided over some tremendous memories. The guys were emblazoned on the hat that Brian McBride dawned upon being named the first ever Major League Soccer draft pick in February of 1996. They were hoisted up on the facade of the first ever soccer-specific stadium in MLS history in May of 1999. They stared out proudly from the chests of the players who hoisted the club's first ever major trophy, the US Open Cup in 2002. And they were there too in 2008 as they cast their stern glazes over the lifting of the big one, the Crew's first and only MLS Cup triumph.
But they weren't just there in fair weather, as they provided a strong shoulder to cry on in the lean times too.
Some absolute league legends have also been privileged enough to wear these three plebeian workers over their hearts. The aforementioned McBride was joined by fellow notable Americans like Thomas Dooley, Eddie Gaven and Frankie Hejduk. And it would criminal not to mention imported talents like Stern John, Guillermo Barros Schelotto and Federico Higuaín. And perhaps ironically, all of those were/are industrious, tireless players who embodied the grit the crest's occupants conveyed. Even if it was just a team slogan, the players that made the biggest impact here always seemed to fit the "hardest working team in America" mantra.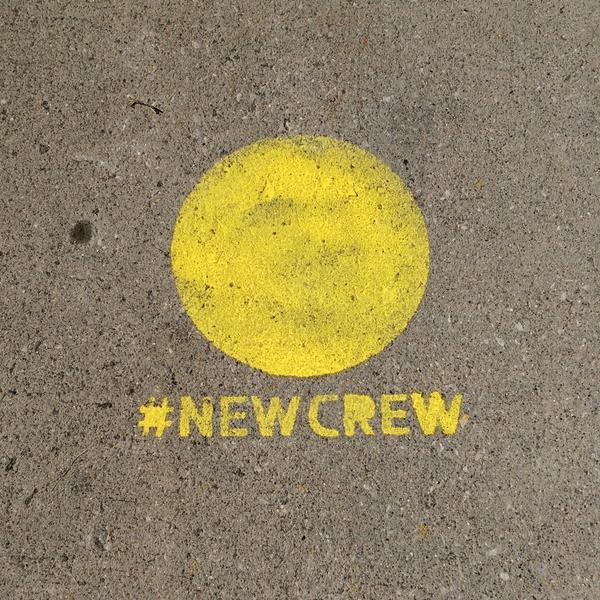 Honestly, it feels a little bit like my dog died: I know I'll be getting another, but the new one won't look just like my current one or remind me of all the fun times we had together.
Look, I'm as excited as anyone for the rebrand the Crew will be unveiling this week. The current look is dated and sorely in need of a refreshing. Hopefully the #NewCrew rendition will mesh well with the league's recent makeover and compare favorably to the newer brands that have debuted recently both inside and outside of MLS. I'm also optimistic the new face of the franchise will better represent the city and fans of the Crew. And my fingers are crossed that it will also give us further indication of the direction that Anthony Precourt and his Precourt Sports Ventures want to take this team.
But I'm still going to miss my guys — even if I don't know their names. There are too many damn feelings and memories attached to their solemn black, white and grey faces.
Chin up, gentleman: you've served us well for nearly twenty years and deserve the (forced) retirement that's coming your way. Perhaps there's a warm spot in Florida you can retire to with all of the other brands sunset by the other American clubs over the years. I bet the ex-Wizards of Kansas City would be happy to carpool with you to Orlando next season, if you need a local MLS-fix.
Wherever you end up though, trust me when I say that you will not soon be forgotten. No matter how shiny and well received the new crest is, the three of you will be missed.