Let's just get this out of the way: outside of the halls of FIFA headquarters in Zurich and the luxurious high rise buildings in Doha, there are very few people in support the idea of Qatar hosting the World Cup in 2022. I'm against it, you're against it, most everyone is against it.
I'm not here today to argue the merits of stripping the Arab state of their right to host the tournament, as that horse has been already beaten to death. And no matter how much more you or I or anyone else continues to beat it, the tournament is still likely to end up in Qatar. So let's just put that possibility out of our minds for the next few minutes, okay?
What I am here to talk about today, however, is when the tournament in Qatar will be held.
Much like everything else that's associated with the 2022 edition of FIFA's main event, the time at which it will be played has stirred great debate. It seems highly unlikely that the World Cup will be played out in its normal (Northern Hemisphere) summer time slot, and wisely so considering the scorching temperatures will be unfit for fan and player alike. As such, alternative dates are being considered for the first time.
On the table: November/December 2022, January/February 2022, and May 2022. And that's bad. Really bad.
FIFA have made it known that they'll be throwing their hefty weight behind winter dates, as the temperatures will be at their coolest and thus safest. But as we all know, hosting the event in the winter will cause a litany of headaches, most notably for European club football which (mostly) plays through the winter. Furthermore, a winter move would also mean the World Cup will directly compete with the Winter Olympics — something to which Sepp Blatter and International Olympic Committee chair Thomas Bach have already said won't happen, but probably will anyway… because FIFA.
The European clubs, of course, favor a May time frame. The late spring time still isn't as hot as the summer months of June and July, and will also allow for the least amount of disturbance in their playing seasons. However, we all know how much FIFA cares about the clubs. So once again, the winter seems most likely.
Which of those two winter options — November/December or January/February — the almighty powerful European clubs would prefer isn't yet known. Regardless which way the scale eventually tips, fabricating a winter World Cup window will directly impact at least three European seasons: the one prior (2020-2021 moved forward), the one it will split in half (2021-2022 moved forward and back to create room in the middle) and the one after (2022-2023 moved back). And as you might expect, that's got everyone worked into a tizzy.
So while it's obvious that the European season will be hit hard by a move to the winter months, what few have mentioned is just how bad it could be for Major League Soccer if the World Cup is hosted in the winter.
Of the two intervals being considered, November/December 2022 would be absolutely devastating to the American/Canadian league. And to illustrate that point, let's have a look at the current MLS campaign and the last few US World Cup rosters.
Right now, in case you hadn't noticed, the MLS Playoffs are being played out. The knockout tournament sits mainly in the month of November, with the championship MLS Cup match normally hosted in early December.
If the World Cup is moved to the November/December time frame, are MLS teams going to be forced to play without some of their best players? Furthermore, since most national teams would expect at least a month to prepare their teams prior to the tournament — camps and numerous friendlies — would they be made to have their sides depleted in the crucial run up to the playoffs too?
Now just how many players are we talking about?
The 1998 World Cup in France was the first MLS-era tournament for the national team to draw players from, and 16 (69.6%) American players were drawn from the fledgling league. In 2002, that number dipped with 11 (47.8%) of the side composed of MLS players, and the same number appearing in the 2006 edition. Remarkably, in 2010 only 4 (17.4%) MLS-based players were in the squad. And in this past summer, 9 (39.4%) Americans plying their trade in MLS were taken to Brazil. So we're looking at an average of 44.3% of the US side being composed of MLS players. That's a hefty amount of players — many of whom are essential, star players for their clubs — to be lost during what many consider to be the most important spell of the MLS season.
But it's not just American players any longer who would be robbed by a winter World Cup. A staggering 22 international MLS players were selected to represent their countries in Brazil. That number was way up from just 2 in South Africa, 4 in Germany, none in Korea/Japan and 3 in France. And just like their American counterparts, most of them were important players in their MLS squads.
I can't imagine MLS or their clubs would be okay with that scenario. So much of the league and individual team advertising this past season revolved around the ability for fans to see World Cup stars. And to be devoid of many of those stars during the make-or-break stretch of the season seems unfathomable.
And it's not even as if the league can just move the season around — just as Europe are being expected to do — to accommodate a November/December World Cup either.
The season start date can't really be moved an earlier than its current early March kickoff, as much of the continent is still far too cold to make that happen. I've been to season openers in Columbus where it's been in the high 20's and low 30's, and it sucks. Not only would fans be less likely to turn out, but it would be pretty damn hard for grounds crews to get the grass pitches prepared for play too. Hell, teams like Toronto, Montreal and even Kansas City rarely play many home matches in the early portion of the current season because it's too cold.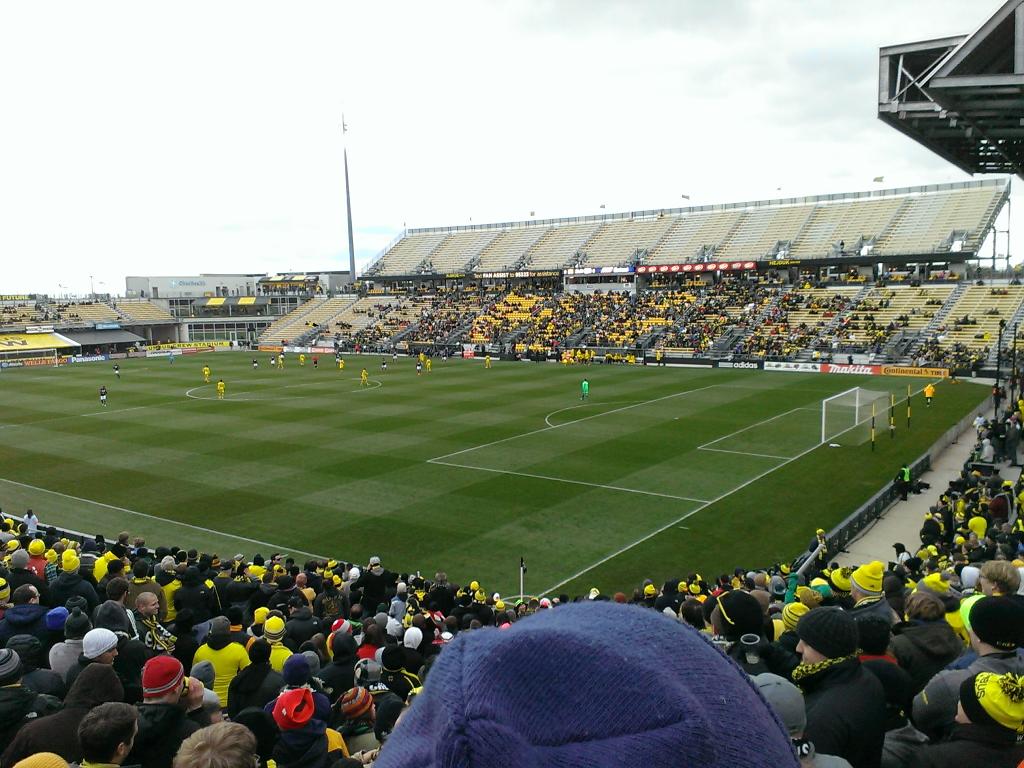 Pushing the playoffs back until after the World Cup presents similar cold weather problems. And as we saw in Columbus last week, cold and miserable weather will keep many fans away from the stadium even during the playoffs. If that's on the table, we may as well kick around the idea of switching to the much debated and European-aligned winter schedule too.
What about packing in significantly more midweek games into the current schedule to try and wrap the season up earlier? Well, you may as well beg for an increase in injuries. Players need time off to recover after matches, and playing what would likely be back-to-back-to-back-to-back weeks with two games would drastically increase the occurrence of injuries and would likely rob World Cup teams of vital players. So that won't work.
And if you're even thinking about just truncating the season and playing a shortened schedule to avoid the World Cup, you're crazy. To make that happen, you would have to cut off upwards of eight weeks of the season. And that would cause the loss of potentially lucrative rivalry match ups and make for a hugely competitively imbalanced schedule. MLS wouldn't really tolerate that either.
So yeah… a November/December 2022 World Cup would be a huge blow for Major League Soccer.
Now all that said, a January/February 2022 winter World Cup wouldn't be as big of deal. It would fall right in the middle of the MLS off season and would therefore mean there would be minimal player absences. There might be some small disruptions to some teams' preseasons, but no more so than the commonplace practice of allowing players to go on loan to Europe during that time already does.
In fact, that January/February window might even be a better scenario for MLS than the May 2022 option, as it would provide almost no disruption to the MLS regular and post seasons at all.
However, the threat of a November/December Qatar 2022 still looms large. Don't forget it's one of FIFA's two preferred options. So If Don Garber and Co. aren't fighting tooth and nail to ensure that FIFA doesn't go with that time frame, then there are more problems at MLS HQ than any of us could have ever imagined.
But in all likelihood, if Europe can agree upon and wants those dates, they'll probably get them. And if they do, North America's league will be left to figure out how the hell they'll survive a tournament they normally tout as a way of building.
Or FIFA could, you know, move the World Cup from Qatar like they should have already done. Then life can proceed as normal.